Food is a crucial and central focal point in the daily lives of people. And this is the reason Machas & Partners is thrilled to share some exciting culture upgrade in our firm.
We're happy to announce that starting this autumn, Machas & Partners is taking a leap in enhancing the overall workplace experience for our amazing team! We are introducing free corporate catering services to provide our staff with a host of benefits that will transform the way we work and connect.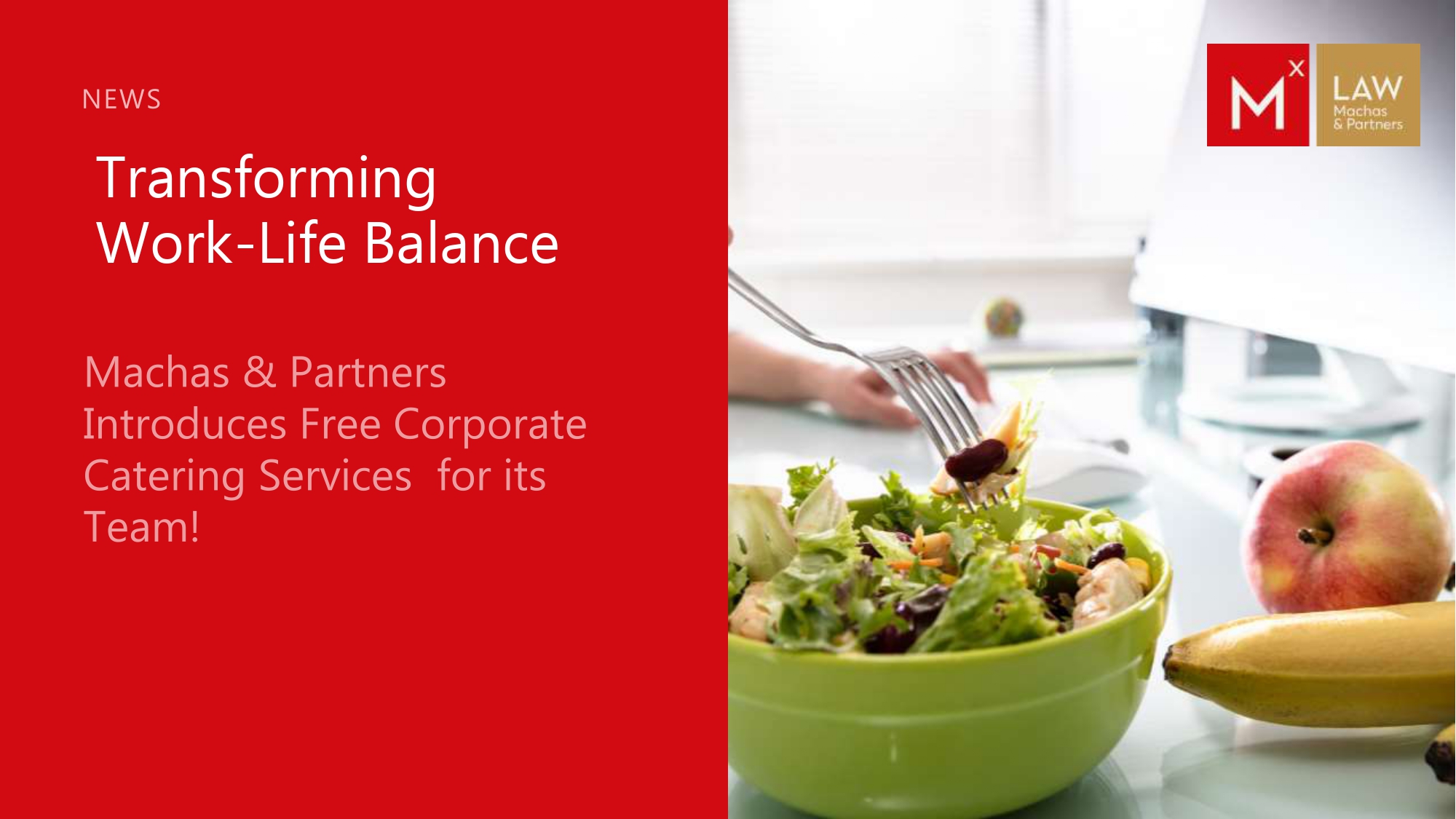 Here's why we're so excited about this addition to our office culture:
1. More Quality Time During The Lunch Hour: Work-life balance is crucial, and we believe in fostering connections among our team. Our corporate catering program offers convenience, allowing us to focus on tasks, discussions, and collaborations instead of worrying about lunch plans. It empowers us with more control over our workday, reduces costs, and amplifies positivity and productivity.
2. Corporate Catering Boosts Employee Morale: Mealtimes can be a way to reduce that heightened response and instill a sense of calm. Sharing meals with others is a great way to reduce stress, boost self-esteem, and improve social connections. We understand the pressures of the corporate world, and we're dedicated to finding ways to boost morale. Providing food to our employees is a proven tactic for maintaining high spirits, especially during challenging times like big projects and dealing with complex law cases.
3. Increases Productivity and Efficiency: Our corporate catering services will ensure that we have the energy and focus needed for peak performance and increasing overall productivity.
4. Decreases Employee Expenses: Saying goodbye to the stress of lunch expenses. With our free corporate catering service, we won't have to dip into our wallet for expensive meals.
5. Enhance people's engagement: Free lunch is a great way to increase engagement, and in turn, enhance our company culture and employee loyalty as well. It creates a culture of gathering together over a meal, and that kind of culture creates loyal employees.
Behind these nutritional meals is Panagiotis Amorginos, the great and experienced chef who adds a touch of culinary excellence to our corporate catering service.
At Machas & Partners, we believe in creating a workplace that values its employees, fosters collaboration, and enhances productivity. Our new corporate catering service is just one more step in this direction.