We are delighted to announce that Machas & Partners will be actively participating in the prestigious 1st Private Wealth Management Conference, organized by CFA Society Greece.
Mark your calendars for June 15, 2023, as this event promises to be an unparalleled gathering of professionals from the Greek and international private wealth management industry.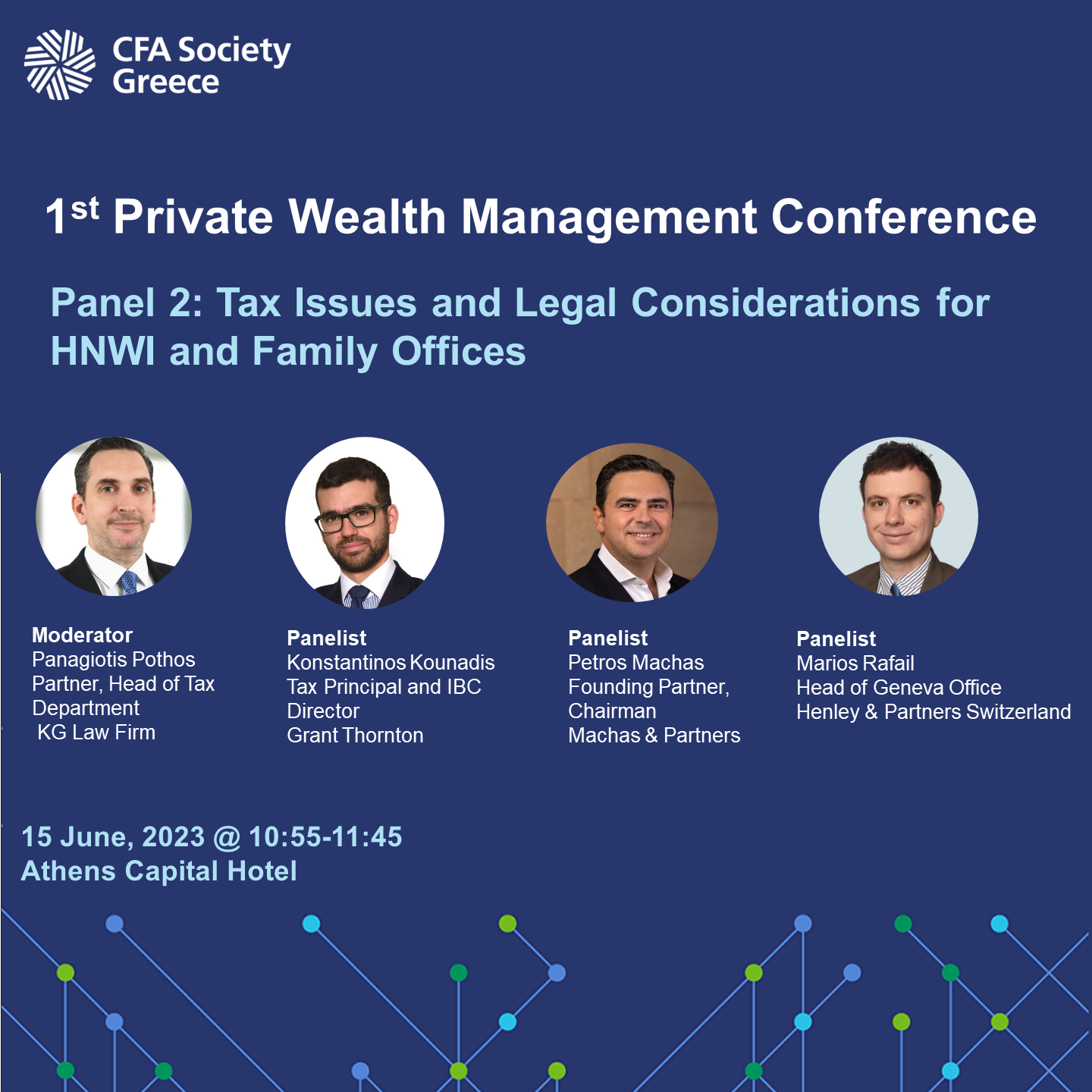 The conference will serve as a platform to delve into the latest trends and shifts shaping the industry while providing invaluable thought leadership on pressing issues. It aims to connect asset managers with asset owners, fostering collaboration and creating opportunities for growth and innovation.
We are proud to share that our Founding Partner and Chairman, Petros Machas, will be a prominent speaker at the 2nd panel discussion titled "Tax Issues and Legal Considerations for HNWI and Family Offices." This session will discuss some of the key tax and legal risks that HNWI and family offices may face and what strategies are available to them. Also, it will explore crucial topics that directly impact high-net-worth individuals and family offices, offering valuable insights from legal and tax experts.
Leading the discussion as moderator, Panagiotis Pothos, Partner and Head of the Tax Department at KG Law Firm. Alongside Petros, the distinguished panelists include Konstantinos Kounadis, Tax Principal and IBC Director at Grant Thornton, and Marios Rafail, Head of Geneva Office at Henley & Partners Switzerland and Member of the Global Board of the Global Private Clients Management Board (PCMB).
The agenda for the conference is brimming with captivating sessions and topics that will shape the future of Private Wealth Management, including:
🔹 Trends in private wealth management: Discover the latest industry developments and emerging trends.
🔹 Tax challenges and legal considerations: Gain insights into the complex tax landscape and legal implications for wealth management.
🔹 Managing family offices: Explore best practices and strategies for effectively managing family offices.
🔹 Incorporating alternative investments in traditional portfolios: Learn about diversification strategies and the integration of alternative investments.
🔹 ESG issues: Delve into the growing importance of Environmental, Social, and Governance factors in private wealth management.
🔹 Fintech and the rise of robo-advisors: Explore the impact of technology and automation on wealth management services.
This conference promises to be an unparalleled opportunity to expand knowledge, network with industry leaders, and gain a competitive edge in the private wealth management landscape.
-> For more information visit the conference website here.