We are thrilled to share an exciting milestone achieved by Machas & Partners. Our firm has made a significant contribution to the "Renovation and Modernization of Hospitals throughout Greece" program, which aims to bolster Secondary Healthcare in the National Health System.
This vital initiative, funded by the Recovery and Resilience Fund (RRF) under the program "Greece 2.0," holds immense importance, particularly in the aftermath of the pandemic.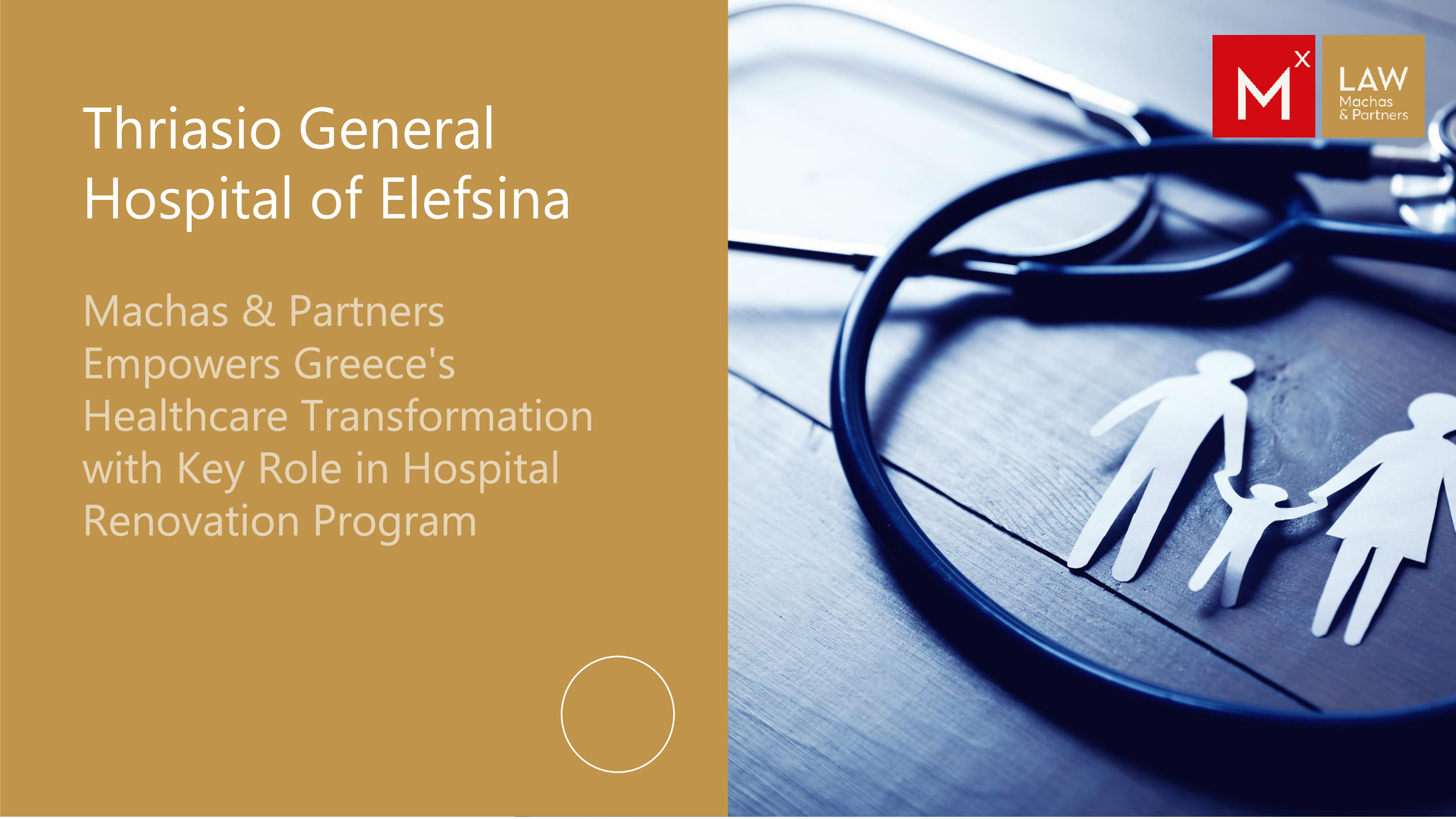 In June, a contract was signed between the 2nd Health Region of Piraeus and the Aegean and the selected contractor for the construction of a new Administration Building at the General Hospital of Elefsina "Thriasio." Machas & Partners had the privilege of acting as legal advisors to the Hellenic Republic Asset Development Fund (HRADF/TAIPED), the Conducting Authority overseeing the project.
Under the guidance of Anastasios Virvilios, Partner, and the unwavering dedication of our Associates Evangelia Sgountzou and Eirini Tsalapati, our firm's Administrative team played a pivotal role in various aspects of the project. This included contributing to the preparation of the tender, drafting tender documents and the contract, managing legal issues concerning submitted bids, and providing comprehensive legal support throughout the tender process.
A National Initiative for Progress
This project is part of the broader program "Renovation and Modernization of Hospitals throughout Greece," a nationwide initiative aimed at enhancing healthcare facilities. With the support of the Recovery and Resilience Fund, this program is set to revitalize the National Health System's Secondary Healthcare sector, which faced significant challenges during the pandemic.
We extend our heartfelt appreciation to our exceptional team for their commitment, expertise, and dedication. Their remarkable contributions have played a pivotal role in advancing this national endeavor. We are honored to be part of such a meaningful initiative and eagerly anticipate the positive impact it will have on healthcare services throughout Greece.
At Machas & Partners, we are deeply committed to making a lasting impact on the development of Greece's healthcare landscape.