At Machas & Partners we are proud to introduce our new Real Estate brochure presenting our end-to-end legal services. The law firm has been highly regarded in several practice areas, with a focus on Real Estate since its inception. Our in-depth expertise in the field, proven by a successful track record spanning 15 years, is propelling us to reinforce and expand our team of experts even further.
We offer high-end services in all aspects of Real Estate Law, supported by the collective knowledge of our specialized teams with broad experience in corporate law, banking & finance, tax, administrative and public law. The team offers coordinated assistance in the most challenging matters, with a clear priority to out-of-court settlements.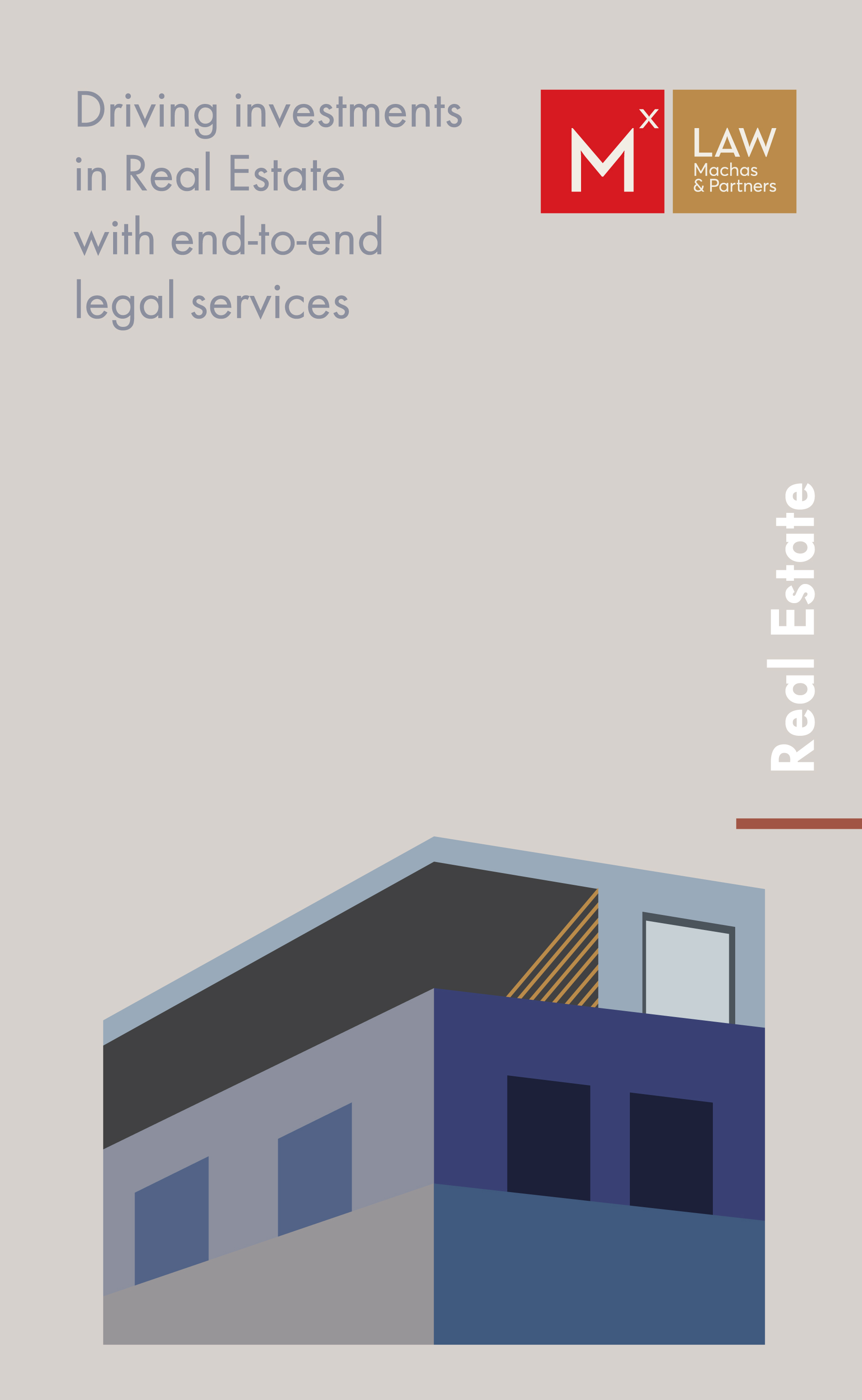 This new brochure highlights the scope of services that we offer, including handling all aspects of acquisitions, property due diligence, execution of the purchase agreement, financing, development, leases, asset management, sale, leaseback, NPL Portfolio Management, Renewable Energy Projects, Real Estate Project Finance/Financing, and much more.
We can offer an international perspective, the global outlook requested by certain types of transactions such as cross-border, international arbitration, global fund distribution, and international portfolio management. Our firm is more than a profound connoisseur of the local market, as our partners are ahead of the curve on legal and regulatory issues, setting standards and developing regulatory frameworks. We can help clients understand and assess trends to anticipate change, protect key assets, and ensure that their business is fit for the future.

As a leading firm in Real Estate, we have set our mark on monumental projects of national importance, such as the Ellinikon Project on the Athens Riviera, the largest urban development project in modern Greek history. The firm has also applied creative solutions to the complex commercial leases of real estate in Nammos Village. We have a long history of partnerships with Israeli real estate companies and key hospitality players.
We aim to support clients' interests as valuable and reliable business partners by identifying the best possible pathways to reach their goals and guiding them responsibly and safely in every business venture.
Dont't miss out on reading the full brochure!
DOWNLOAD